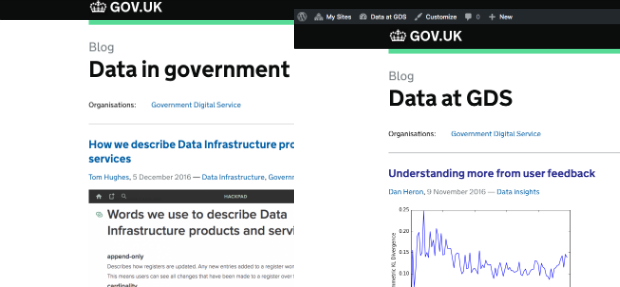 We enjoy talking about data. In fact, we enjoy talking about it so much we have two blogs on the subject: Data at GDS (this blog) and Data in Government.
To date we've used the Data at GDS blog to talk about the technical side of what we do: how we use data analysis and data science to find answers to common questions. This has helped us to go into more detail than we might normally do on government blogs, and to explain the real detail of our work.
This has meant the Data in Government blog has naturally taken on more top-level, all-encompassing content and has looked at why data is important, what we do with it, and how we can make it easier for people to access and use.
In some ways this distinction can become a bit blurry, and we would like to understand more about our readers and subscribers, and what they want from our blogs. We know that the readerships are slightly different in each place but we do not know how different or what it is the different groups are hoping to get out of our blogs.
We want to find out how we can make our content better and more relevant to your needs. To help us do that we have developed a short survey, which can also be accessed from the link below, and we would really appreciate a few minutes of your time to fill it in.
If you know anyone else who has an interest in data and would like to be involved in directing us to better content, please do share the link. We are really grateful for any thoughts you might have!
Here's the link again: https://goo.gl/forms/kOlHwYpi6QJTn0bB2
Peter Jordan is Head of Performance and Data Analysis at GDS