We've started publishing sprint notes as a way to keep you up to date on what we've delivered and what we're working on next.
We structure our work into 6-sprint blocks, and this was the second sprint of 6. Each set of 6 sprints will take about 3 months.
This first sprint:
How long it takes to use a service
Now you can see how long it takes to complete a Carer's Allowance application online. Carer's Allowance was the prototype – we're interested to add this information to our other dashboards.

A new admin interface
We're making it easier for service managers to upload data by laying the foundations for a new admin interface.
So far we've made a 'walking skeleton app' and we've integrated GOV.UK sign-on. A 'walking skeleton' is an app you can deploy. We can deploy walking skeletons! But a 'walking skeleton' app doesn't do anything yet. It means we've sorted out how the app is deployed and now we can focus on adding features. We've added one feature so far – you can sign in using GOV.UK signon. You can sign in but you can't do anything. We'll iterate further in the next sprint.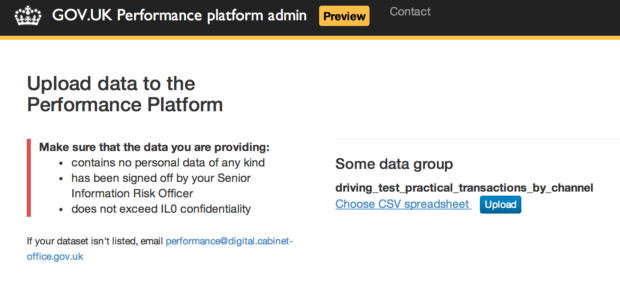 Sortable tables
Now, you can sort tables. Sorted.
2 new dashboards
We released dashboards for Voter registrations and Prison visit bookings.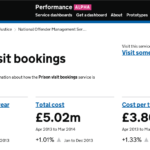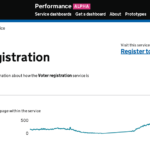 Next sprint
Choose a date range on graphs

We're going to add date selectors to our graphs and modules. You'll be able to choose what date range you want to see and find out if recent updates had a positive effect.
Anna had already made a prototype which we were testing on the Carer's Allowance application dashboard – now we're implementing this feature across all the live dashboards.
We're planning to iterate this feature further over coming sprints.
Upload data (with nice errors)
The 'walking skeleton' will begin its transformation into a full admin interface – starting with the ability to upload data. We'll also be taking a good look at the error messages we show – no more *internal error*.
More consistent graph designs
We're updating the design of our graphs. The summary numbers next to each graph will show the latest data – previously we were showing an average of the last 9 weeks. We'll also be making many other small tweaks and improvements.
That's it for this sprint. See you on the 11th August.