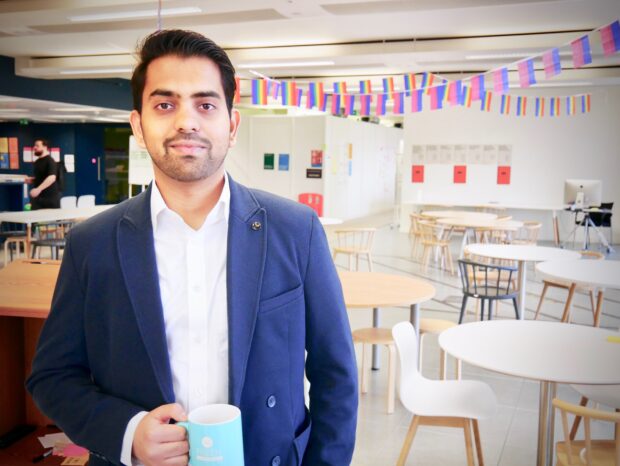 I  applied for a place on the Data Science Accelerator 8 months ago while in my current role as a senior predictive modeller in Her Majesty's Revenue and Customs (HMRC).
The programme provides civil servants the chance to access data science tools and data scientist mentors. It's free to participate in and is open to analysts and aspiring data scientists from across the public sector (including local and central government).
On the Accelerator
Joining the Accelerator meant I would have one day a week, over 3 months, as protected time to develop my project - a proposal to identify phoenix companies in order to tackle fraud.
Phoenixism, or contrived insolvency, is when company directors use insolvency as a loophole to avoid paying HMRC the tax they owe. It can end up costing HMRC huge amounts of money.
In order to do this, I wanted to create a prototype social network that would allow HMRC to identify phoenix companies for further investigation.
While taking part in the programme I was able to meet data scientists who were passionate about their work, and it also gave me a unique opportunity to see some of the amazing work being done across government.
I learned so much in a short span of time and it's in large part due to the exceptional mentors we had on the programme - mine was Robin Foster, an operational researcher in the Data Science team at the Ministry of Housing, Communities & Local Government.
This was my first project using Python and the input from Robin and the other cohort mentors was invaluable in helping me build the prototype in just 3 months.
Exploring the possibilities
All of this meant I was able to successfully identify phoenix companies and consequently HMRC has begun to explore the issue further and implement the prototype across various parts of the department. We're also looking to explore possible connections with the Financial Conduct Authority, who are conducting similar investigations.
After becoming one of the 150 people who've taken part in the programme since its launch in 2015, I've been offered a role as a principal data scientist at the Home Office . I can say for certain that without the Accelerator programme I would not have managed to get the job.
I wholeheartedly recommend it and encourage anyone who is thinking about applying to do so.
Applications for the Data Science Accelerator are now open  and close on 11 February 2019. For more information on how to apply and key dates, visit the Data Science Accelerator information page.
Find out more about what happens on the programme and how participants are chosen. You can also see examples of previous projects in our project directory.  

The Data Science Accelerator programme is backed by the Government Digital Service, the Office for National Statistics, the Government Office for Science and the analytical professions of statistics, economics, operational research and social research.