We've been looking into how to reduce the amount of noise on our graphs.
Daily data often shows a lot of random fluctuation, especially since sample sizes are very low for small transactions. We're going to switch to weekly averages for several metrics to make the trend clearer.
Here's a graph of user satisfaction for Prison visit bookings, showing daily data. It's pretty hard to discern the trend.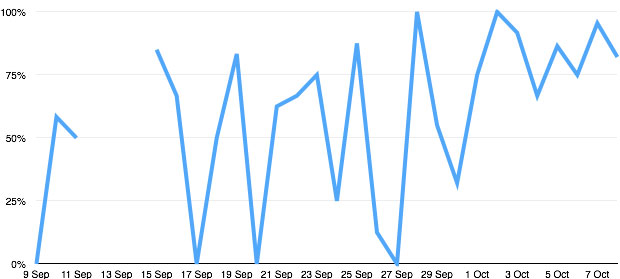 ---
And here's the same graph with a weekly average. Much clearer.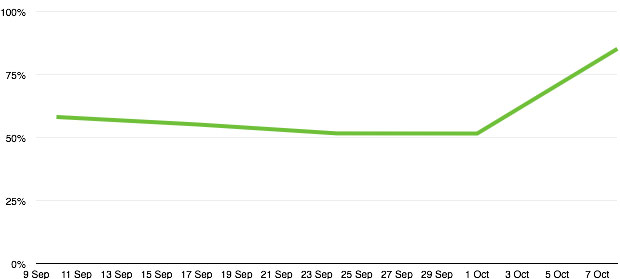 ---
We also took a look at a couple of other ideas. The yellow line is an average for the whole graph. This misses the rising trend toward the end of the range. The orange line shows a weekly rolling average. This picks up the trend but is still a bit noisy.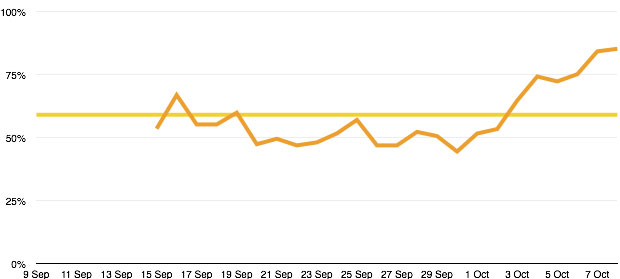 ---
So we're going to switch to weekly data for:
digital take-up (typically postrooms and phone lines aren't open at the weekend, so weekends get 100%!)
user satisfaction
completion rate
We're not going to switch to weekly data for the volumetrics graphs, because it can be useful to compare demand on different days of the week.