The people who work mainly with digital analytics in GDS have been called 'Product analysts', but we have increasingly felt this does not adequately describe our role. The Service Manual calls our role Performance Analyst and Digital performance analyst. Other terms used are Digital Analyst and Data Analyst. It's confusing. We are also recruiting soon and wanted a more meaningful title.
So it felt like time to revisit the title; and, being an analyst, I had a look at some data.
Search data
Google Trends
Google Trends is often a good place to start, to gauge the relative amount of search interest in a keyword: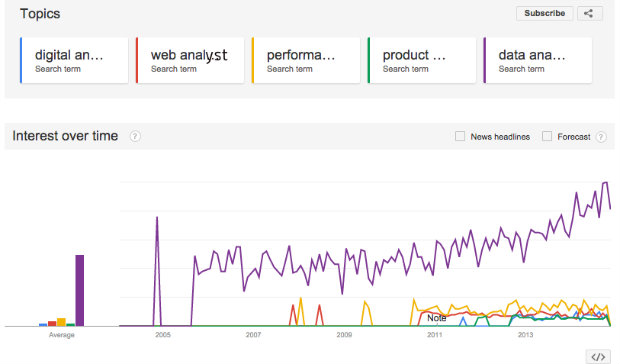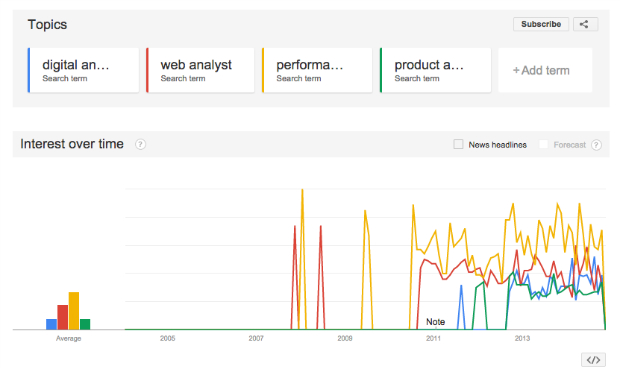 Performance analyst is strong, but data analyst is the most popular.
Data from Experian Hitwise
Experian Hitwise provides similar, but more detailed information on search term variations: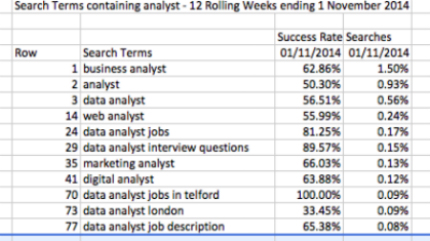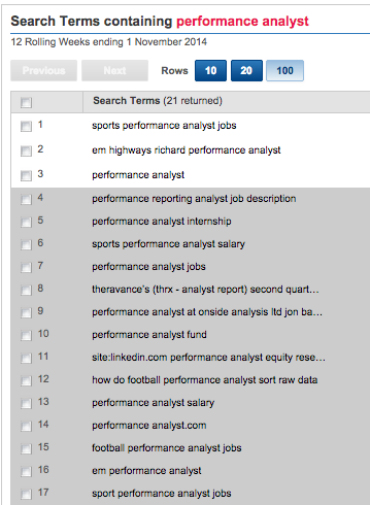 Job searches on Linkedin
In early November, I queried Linkedin's job database for analyst job roles:
| | |
| --- | --- |
| Job title includes | Number of jobs |
| Data analyst | 3098 |
| Performance Analyst | 2172 |
| Product Analyst | 1054 |
| Web Analyst | 701 |
| Digital Analyst | 404 |
But what is the job description behind the title?
I reviewed a range of job descriptions for each job title. Some sample extracts are shown below. I found that there are no clear delineators. Many role functions and skill requirements overlap.
So how do the titles and job descriptions map to what we do it GDS?
Data analyst
Although we are expanding our skill set in this direction, the main 'data science' competences for a data analyst are outside of our core skills set. A recruitment campaign using this title risks putting off suitably skilled candidates who could grow into wider competences later.
Performance Analyst
Emphasis on performance and KPIs. In a wider domain, the job title can be associated with sport science.
Product Analyst
A close association with products and with reporting.
Digital Analyst
Close match, but tends to exclude our ambition to also work with non-digital datasets.
Web Analyst
Close match, but tends to exclude our ambition to also work with non-digital datasets. I would exclude as it is an out-of-date term.
Conclusions:
In the job market, many role functions and skill requirements overlap, but on balance, we decided to go with Performance analyst.
In GDS, we focus on understanding user needs and measuring how well our content and services perform in meeting those needs. This title encompasses the scope of what data we work with and where industry trends are going. This brief research showed that the outside world used a variety of titles, but increasingly expect people to work with different data sets.
To make things clearer, especially when we're looking for people to work with us, we have a 'strapline':
"A performance analyst works with digital and other data sources to derive actionable information and insight for product owners."
Data analyst
Working within the Data Analysis & Provisioning pillar of the data management team, this role will be central to establishing a better understanding of its data estate, set out data acquisition approaches to address prioritised data requirements, to support Proposition teams to accelerate the data needed to move from idea to implementation, and to build up data management knowledge and best practices to enable the organisation to use data to drive key propositions.
Previous experience working in data centric projects in either a data analyst or data architect role
Deep experience doing data analyses using Structured Query Language (SQL)
Deep experience doing data analyses against relational databases and a good understanding of relational database management concepts
Project delivery experience using agile delivery methodology
Proven experience working with business and data analysts to translate data requirements into functional specifications to enable the building of data platforms
Deep experience working with business analysts to understand and document data integration and data quality requirements
Experience of prototype-enabled delivery, allowing for discovery/innovation based delivery approaches as part of overall delivery lifecycles
Performance analyst
The successful candidate will support the collection, analyses and presentation of data for planning and managing optimal service delivery.  Specifically, s/he will:
Provide performance analysis, advice and support to the Service Managers in ensuring that their service meets the performance requirements set out in the appropriate Performance Measure
Communicate service performance key indicators to the Senior Management Team and other senior stakeholders
Review internal benchmarks in performance and productivity, against competitors and market trends and make recommendations on key performance drivers
Share examples of best practice in performance management across departments, contributing to the continuous improvement of services
Identify delivery obstacles to improving performance within departments and work with teams to overcome those obstacles
Undertake ad hoc research appropriate to corporate needs, analyse and interpret the results making inferences and recommendations as required
Invest time in understanding customer and stakeholder expectations and priorities, developing services to meet those needs, including when they change
Promote continuous development of performance measures.
Product analyst
Essentially, the role is to help the whole business understand how the product is performing, what our customers do with it, what our customers think about it and how we can make their lives better. This role is heavy on insight, it's not just about reporting.
You'll focus on automating data processing, reporting and ensuring data from source-to-report is reliable, understandable and consumable. You'll work closely with stakeholders to build new data sources, reports and analytic dashboards and be the first point of contact for questions about product data, company-wide.
You'll also utilise your supreme SQL and Excel skills to quickly bring insight to a wide variety of topics and communicate with people in all areas of the business. You'll need to make technical decisions and work out how to automate so you can focus on the fun stuff and design reports and dashboards that will make people's working lives a data-rich joy.
Web analyst
Perform deep-dive analysis to gain insight into how our customers are using products
Create reports and dashboards for a range of in­life products and new product development initiatives, across a broad portfolio of software services for connected products (daily, weekly, monthly plus trends)
Development of mobile performance measurement and a process for monitoring and reporting app performance.
Work with Product Owners to define new analytics requirements and ensure these are translated into the finished products
Undertake ad-hoc reporting and analytics based on business requirements and needs.
Own the reporting cycle across all products
Help to determine KPIs for all elements of the software experience, then build/automate reports to monitor them on an ongoing basis.
Work with the Product Owners and Optimisation Manager to make recommendations for improvements based on your analysis (and then measure what impact your recommendations have and report back)
Work with other analytics specialists in the business to define and create segmentation for our connected products
Ensure our reporting is joined up with other parts of the organisation so we can report on the end-to-end customer journey.
Work closely with the core analytics team to share best practice and insight.
Identify and fix any reporting issues
Be the 'go­to' point for knowledge regarding reporting for connected products in the organisation
Create and maintain tagging specifications for our development teams, and ensure tagging has been implemented  accurately in order to track the various customer journeys
Digital analyst
Lead, commission, undertake and deliver analytics, data and measurement projects across a range of digital media.
Contribute to the development and delivery of  digital media audience data, measurement and analytics strategy.
Ensure the organisation has leading-edge analytics tools, measurement, metrics and skills; and employ those to help the business achieve its aims.
Partner with teams across the organisation to demonstrably influence decision making, through robust data, analytics and insight.
Partner with teams across the organisation to deliver technical projects on time, to scope and within budget.
Enable and deliver best practice in digital media measurement and analytics.
Leading the efforts on measurement of new projects and platforms.
Deliver inspiring and actionable insights (rooted in robust data, analysis and measurement).
Be recognised as an expert in digital media analytics, data, measurement metrics and industry standards.
Deliver data, measurement and analytics which demonstrably help the business achieve its goals.
Ensure that data, measurement, metrics and analysis are robust and in line with business requirements.
Maintain high standards of presentation, including the development of new or imaginative ways of using or communicating data and insights.