Google Analytics has recently added two very useful features: search destination pages and more dimensions in custom reports.
This means we can easily look at several dimensions side by side in the Google Analytics web interface, rather than having to use the API to get more than two dimensions at once.
For internal site search, we can now chain together the page users searched from, their search term, and the page they went to next, giving us a clearer view of search journeys and user needs.
Search Destination Page
In the standard Site Search Pages report, you can select Search Destination Page as the primary dimension, to see where people went from site search results. Then click on any of those pages to see the search terms that led there.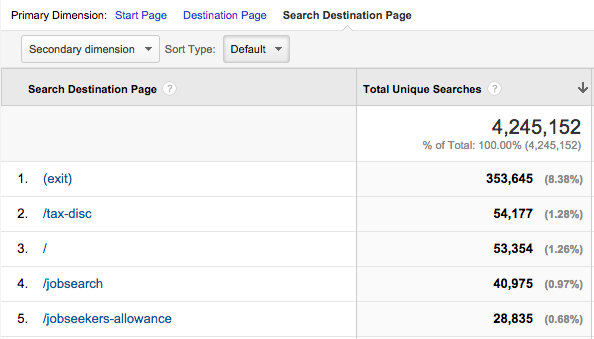 You might notice that the older Destination Page dimension is still available, but this just gives you the page path for each search query ('/search' for GOV.UK searches) rather than the next page after the search results. For years we've had to use Page and Previous Page Path as a workaround to see which search results people clicked on, so it's much easier and clearer with the new dimension.
Similarly, in the Site Search Terms report you can add the Search Destination Page as a secondary dimension, to see where people went from individual search terms.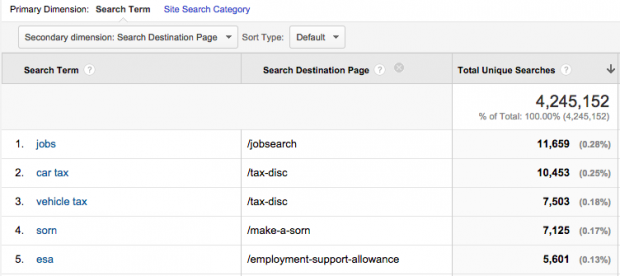 Sampled data
Unfortunately the Search Destination Page data may be sampled, but on Google Analytics Premium accounts you can request an unsampled report in the usual way, through the Export menu.
Custom reports with up to 5 dimensions
Taking this a step further, you can customise the report to include more details. Custom reports can now have up to 5 dimensions side by side in a flat table.

So it's easy to combine the Start Page, Search Term and Search Destination Page in one table. In this example I've filtered out searches started on the GOV.UK homepage, to focus on common searches from other content:

In row 1, we can see that lots of users who arrived on the 'Thank you' page at the end of a driving-related transaction went on to search for 'sorn' and then clicked on the 'Make a SORN' result to declare a vehicle off the road. Acting on this data, our content team have added 'Make a SORN' to the related links on that end page, so that users can find it more easily.
You could also add the external search keywords that brought people to the site (filtering out 'not provided' and 'not set'), to see how users navigate and what they're looking for. This can help you to identify journeys where users are landing on the 'wrong' page and then having to search again for the information they actually need.
In this example we see people first searching for 'DWP' in external search engines (Google or Bing etc), landing on the Department for Work and Pensions organisation page, and then searching for 'pip' or 'esa' within the site before reaching the relevant content. This is a common pattern on GOV.UK, with users often searching for the organisation brand name before narrowing down to something more specific.

Other potential uses
Of course these bigger custom reports aren't limited to site search. The increase in available dimensions means there's room to add things like the source, landing page, exit page, page title or custom variables/dimensions when you're analysing any content.
Once we migrate from Classic Google Analytics to Universal Analytics, we're aiming to add more information in custom dimensions, such as the dates when pages were first published and last updated, to help us analyse GOV.UK's content in more ways.
If you've come up with an insightful combination of analytics dimensions, we'd love to hear your experiences in the comments section on this page.