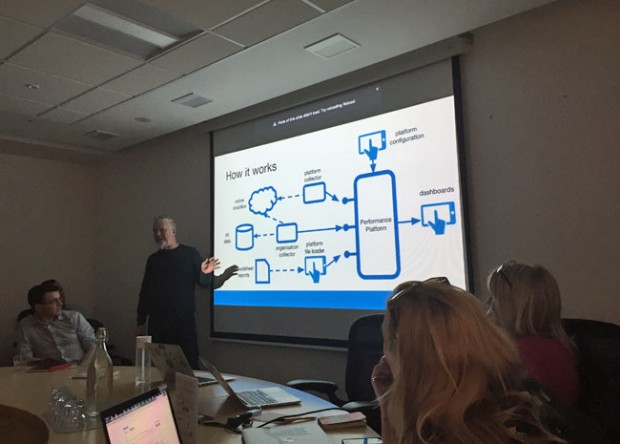 Last week we held the first ever Performance Platform user forum. We've wanted to have a get together for a while and it was great to see colleagues from across government.
We were joined by service managers, analysts (and a lone developer) from many different teams including BIS, HMRC, DVLA, Companies House, Skills Funding Agency, Land Registry and the Cabinet Office. Thanks to Sharon Hepworth and BIS for agreeing to host us.
As the name suggests, the forum is by and for users of the Performance Platform. So we asked them for ideas for the agenda... What works for you? What causes migraines? Is there anything that we could team up on?
The topics we covered
The response we received to our call for ideas was great and we settled on three topics to get the ball rolling.
The first was about users of the Performance Platform. Who's looking at dashboards and sharing them within organisations? What could we do to increase usage?
The experiences we heard about in the room were as varied as the audiences we've seen using dashboards. One pattern is clear though - the wider range of metrics on a dashboard, the wider the audience.
This led to a conversation about the need for the 4 KPIs and how to handle non-transactional services. The platform is pretty flexible and has been designed to show all sorts of metrics. We've found the most useful dashboards are those where organisations add metrics for their own needs as well as the 4 KPIs. Plenty of food for thought... for both service owners and us!
Next up, Guy Moulton from HMRC explained the work he's done on integrating with the platform, aided by my colleague Urmy. Metrics data from HMRC's Google Analytics is now sent directly to the platform, reusing open source code from our team. Now HMRC controls all of its data and is able to quickly automate their integration. A big win for them and us.
At this point we did a quick show and tell - sorry, couldn't resist! The Performance Platform includes a 'Big Screen view' for showing key metrics on lobby TVs. It's gaining use across government and we wanted to hear what attendees thought about it. They seemed to want to show particular data across several services, besides all the data from a single service. If that sounds like something you'd use, please get in touch.
Understanding 'cost per transaction'
We left the biggest discussion till last. Many of the attendees wanted to talk about calculating costs of services. There's well thumbed guidance in the GOV.UK service manual, but we've found that it can throw up as many questions as it answers. Also, despite the definition in the manual, the method of calculation can vary from one service to another. It makes comparing costs across services problematic.
Attendees shared their stories of calculating costs. Approaches included everything from totting up the costs of a digital transaction to working out the total running cost of a complete service.
We talked about simpler ways to get comparable numbers across services and departments. One idea involved looking at the costs controlled by a service manager. The cost of the team would be in, for example, while overheads such as power and premises left out.
We also floated an idea from a GDS colleague around categorising services. For example, some of them process applications and others help with changes in circumstances. Would categories help us to compare similar services? Again, there was plenty to think about. We hope to pick up on these ideas at our next get together.
An ongoing conversation
The biggest ask was for some kind of online forum to carry on discussions 24/7. Our colleagues in the GOV.UK content team run a successful Basecamp and we'd like to do something similar. Watch this space.
Another attendee asked us to split the workshop in two. He wanted a separate forum for technical discussions about data and the platform. It's a great idea that we hope to take forward.
Our first Performance Platform forum was a huge success and we'll shortly start planning the next one. If you'd like to take part or have ideas for subjects we should discuss, please let me know.