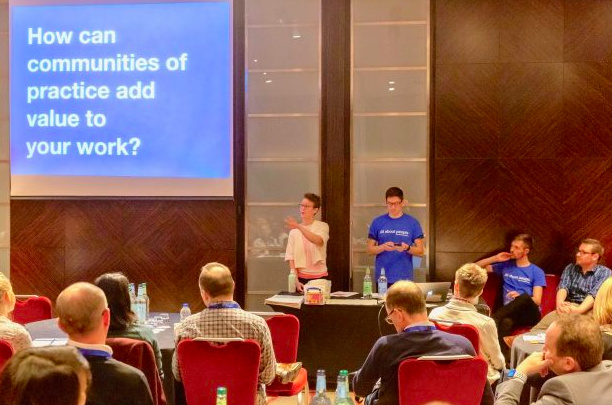 Our team at the Data Standards Authority (DSA) has teamed up with a couple of other government departments to recruit a community manager for data practitioners across government. These departments include the Office of National Statistics (ONS) and the Department for the Environment, Food, and Rural Affairs (Defra), who are both keen stakeholders in our work.
We recently blogged about our work at the DSA and our plans to fix the foundations of data exchange using standards. We're aware that government data has struggled with an important piece of the improvement puzzle: building a community of practitioners to help shape priorities and identify common challenges. These priorities are all the more essential to identify now we have the Data Standards Authority up and running and a team ready to take action.
We see the community manager role as essential to building and leading this community of practitioners, giving them a strong voice to bring about changes they feel are needed. This community will help shape the DSA work, as well as potentially wider data work in the future. The role will be funded from the GDS DSA budget, but we feel they will be best placed to lead the community from the ONS, which has already established the cross-government Data Architecture Community (GDAC).
Aligning the data communities across government
At the moment we have a number of central data communities that we've been speaking to as part of our work in the Authority. These mainly consist of GDAC referenced above, as well as the API and Data Exchange Community of Practice, and the Open Standards Community at GDS.
We've also recently teamed up with the Knowledge Management Community at the National Archives to discuss archiving data standards, and we are keen to continue to partner with this community in the long term.
These communities often discuss similar topics. Sometimes practitioners may be members of all the communities, but other times you may have practitioners that don't know the other communities exist. We want to change all this, and bring the communities together so we can create a bottom-up force that will help us change data.
Part of the role of the new community manager will be to align the data communities across government and ensure they are aware of the work the Authority is leading, and give them clarity on how they can participate.
Recruiting with a cross-department panel
Considering we want the new community manager to work across government, we ensured we had a cross-department panel to chair the interviews. It was clear we needed GDS and ONS on the panel since they were responsible for the role. We also were keen to bring in Defra due to its experience in running cross-government communities.
The panel members included myself; James Evans, who is head of Data Architecture Strategy and Coordination for ONS; and Imran Hussain, Defra's Community Lead.
The data community manager role
As we said in the original job description, the new community manager will grow and promote an active data community of practice across government.
They'll develop an understanding of the work community members are doing on projects, programmes and 'business as usual' activities. They'll ensure best practices are shared and key learnings are identified, and ensure this feeds into the DSA programme.
The role will also involve bringing the community together, and identifying where we need more learning and development within the data function. We see them working closely with other technology community leads to provide training and opportunities to technologists across wider government.
We also hope the new lead will help develop the data communities more to ensure a diverse group of people, who feel welcome, respected and supported.
Our next data community event
We aren't waiting for our community lead to start before we bring the data community together. We are planning a number of cross-government events to discuss areas of work the DSA is leading.
For example, we are hosting our next API and Data Exchange Community of Practice event (link to sign up here) on catalogues and we will be blogging about this soon.
We have also teamed up with Defra to host a metadata event to hear from different departments on aspects of their data management plans. This will be open to central and local government and hosted on 2 October. You can sign up on our Eventbrite page. If you are interested in presenting at this workshop, please get in touch using the comments section below or via our DSA email address.
We look forward to announcing more events when the new community manager starts.
Next steps: stay tuned!
We've just finished interviewing for the new role and we look forward to announcing the successful candidate soon.
Look out for a further blog post from the new community manager when they start to understand their priorities and how to get in touch.