At Government Digital Service (GDS) we have implemented some new updates from  schema.org on certain pages on GOV.UK to make important content on the pandemic easier to find for users.
Last year schema.org was passed by the Open Standards Board as a new data standard for government. GDS is working with GOV.UK and schema.org on helping ensure the new updates meet government and end user needs.
We are keen to hear from other government organisations as well as healthcare and schools, particularly those that are also using schema.org, on how the new updates can be improved and what the schema.org markup could additionally express.
The new updates from schema.org
Schema.org is an open, machine-readable, metadata schema that helps organisations, including those in the public sector, make their information easier to find through search engines such as Google and Bing. It also makes it easier for others to reuse our content in different ways, such as in voice assistants or chat bots.
At GDS, we have been using schema.org on GOV.UK for a long time, but have recently started using the schema's new enhancements to help our response to the Coronavirus.
One enhancement we have started using is the SpecialAnnouncement collections of tags  to help surface the most useful public service updates for users at this time.
What is the SpecialAnnouncement schema?
The SpecialAnnouncement tag system is flexible, and you can use one or more properties within it.
For example, within the SpecialAnnouncement schema, local authorities might use publicTransportClosuresInfo for useful local, granular public transformation updates, or combine diseasePreventInfo and travelBans properties to shed clarity on preventing the spread of the virus. Parents can be kept updated with school closures with the schoolClosuresInfo tag.
The benefits of using the updated schema.org tags will, like the rest of the schema.org tags, help us provide trusted information to users and make sure other useful and trusted content from others is surfaced. Schema.org allows us to put in links to other pages with relevant content, both from within GOV.UK and external, reliable sites. When a user does a search, they then find the relevant GOV.UK content, followed by further related content elsewhere. Our links will ensure the search engines set these follow-on links to cover local and national content.
Implementing SpecialAnnouncement
We implemented the SpecialAnnouncement schema on the gov.uk/coronavirus page. Initially, when the page was created, there wasn't a lot of related content. As new content is created, we can update the links to useful pages.
Here is how it works in the search results: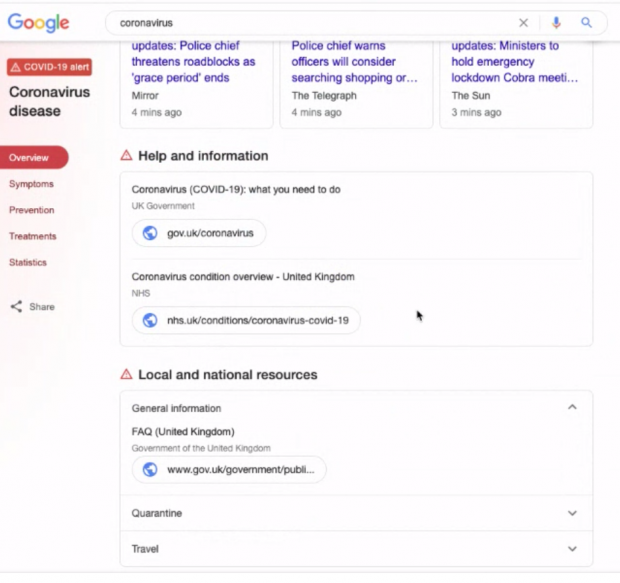 If you are a user reading web content, we help you see the schema in use. For example you can download the GOV.UK Chrome extension or the Firefox one. This allows you to look at the structure. Here, you can see the category properties within the SpecialAnnouncement schema: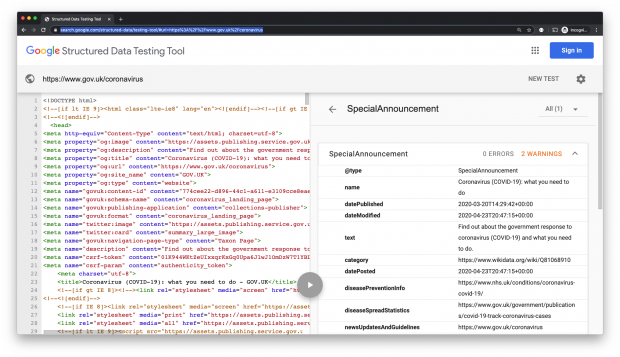 What do we need?
We would like to hear from others in government on how you have either implemented some of these enhancements, whether you are satisfied with them, and  your ideas on what we can do to use more of them.
We are aware that schema.org is updating its relevance to the Coronavirus frequently. Let us know how the updates work for you and which additional capabilities could be useful.
Also, are the tags working for end users? Let us know whether you are finding the right content on the Coronavirus from us at GOV.UK and from the rest of the public sector.
You can comment using the comment section below.
Schema.org is also looking for feedback directly from users of the schemas as they are iterating them.